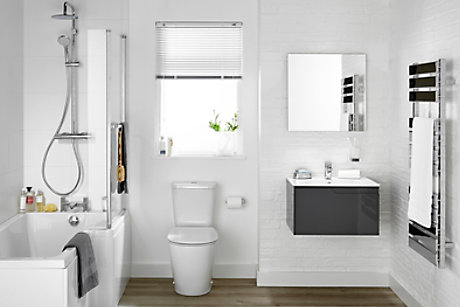 Everyday Bathroom Cleaning Tips and Tricks
What are the worst cleaning chores you can even think of? Bathroom it is. The disgusting little dirt you are bound to find in your bathroom are well enough to make you steer away from bathroom cleaning. But like every room in your home, bathroom has to be cleaned too. If you're like most of us and dread this hateful task, we have some great tips for you! These 7 cleaning tips are quick, easy, and are going to make your least favorite routine an absolute breeze.
Cleaning of mirror
The bathroom mirror gets so dirty frequently. Covered in dust, makeup, and toothpaste. Spraying cleaning products or water on paper towels tends to leave a streaky, blotchy shine. So try this technique instead.
Brew some REALLY strong tea – like 3 bags of black tea and nothing else. Pour the tea into a spray bottle and use this to clean your mirror flawless! Instead of paper towel, try newspaper to get less lines. This is the most effective tip and is very effective.
Cleaning of shower's scum
Scrub the nastiness of shower in a smart way. Use a dish wand with half vinegar and half soap. This method will bust through the dust and grime from your shower and will leave it sparkling in no time.
Removing of hard water stains
Those unsightly stains of hard water on your bathroom's hardware looks bad. So in order to make them clean, use lemons to clean all the hard water stains from your washrooms' metal hardware.
Tooth brush holders
This one is fairly simple technique. When your toothbrush box is getting clogged up with soap scum and unnecessary dirt, don't struggle to clean it. Just toss it in the dishwasher and let technology do the work for you.
Toilet brushes cleaning
To prevent smells (and from scrubbing your toilet germs away with something just as germ-infested), pour a little multipurpose cleaner in the bottom of the brush holder for a continuous clean and lovely odor.
Bonus tip! This may not be bathroom-related, but while you're on a cleaning roll, you might as well clean out the washer, too!
The plaster that builds up in dryers causes hundreds of house fires a year, but this tragedy is so certainly avoidable. To get to the hard-to-reach places, attach an empty paper towel roll to the end of your vacuum hose, stick that down into your dryer, and go to town.